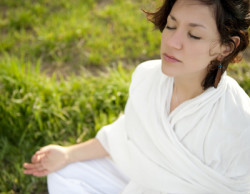 Join us every Tuesday evening for our Meditation Group. Each week typically includes a grounding and centering guided meditation, sharing a teaching and engaging in discussion called "satsang" (to speak truth), offering of Sai Maa Diksha, and a closing meditation. This is a safe place to explore your spirituality and who you REALLY are.
There is no experience required, all people of all religions and faiths are welcome — we are non-denominational.
Visit our event calendar for details.